DENVER (CBS4)
– Denver Police have arrested a woman accused of
stealing luggage
from the carousel at Denver International Airport. Anna Peralta was identified through a photo posted online by Metro Denver Crime Stoppers.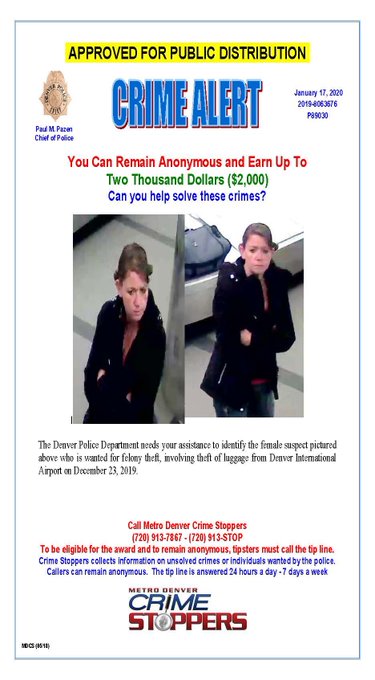 Peralta was wanted on three outstanding warrants, including criminal possession of multiple identification documents and two or more financial devices. She is now charged with felony theft for the luggage stolen from DIA.
Two other luggage thieves targeted the DIA carousel just before Christmas during the busy holiday travel season.
On Dec. 22, 2019, a male and female took several pieces of luggage that wasn't theirs from DIA.
"Denver police is patrolling in the terminal and around baggage claim. We also have contracted security service that is monitoring these areas and our DEN employees who are out making sure that people aren't walking off with bags that don't belong to them," said DIA spokesperson Emily Williams.
Investigators do not believe the cases are connected. Police could not give an estimated value of the items taken.
Additional Information from Denver Police:
Anyone with information regarding these crimes or recognizes the suspects in the pictures is asked to contact Crime Stoppers at 720-913-STOP (7867). You can text to CRIMES (274637) then title DMCS and enter your message or send an e-mail to metro-denvercrimestoppers.com. If the information you provide leads to the arrest and charging of a wanted individual, you can receive a cash reward up to $2,000.
Comments